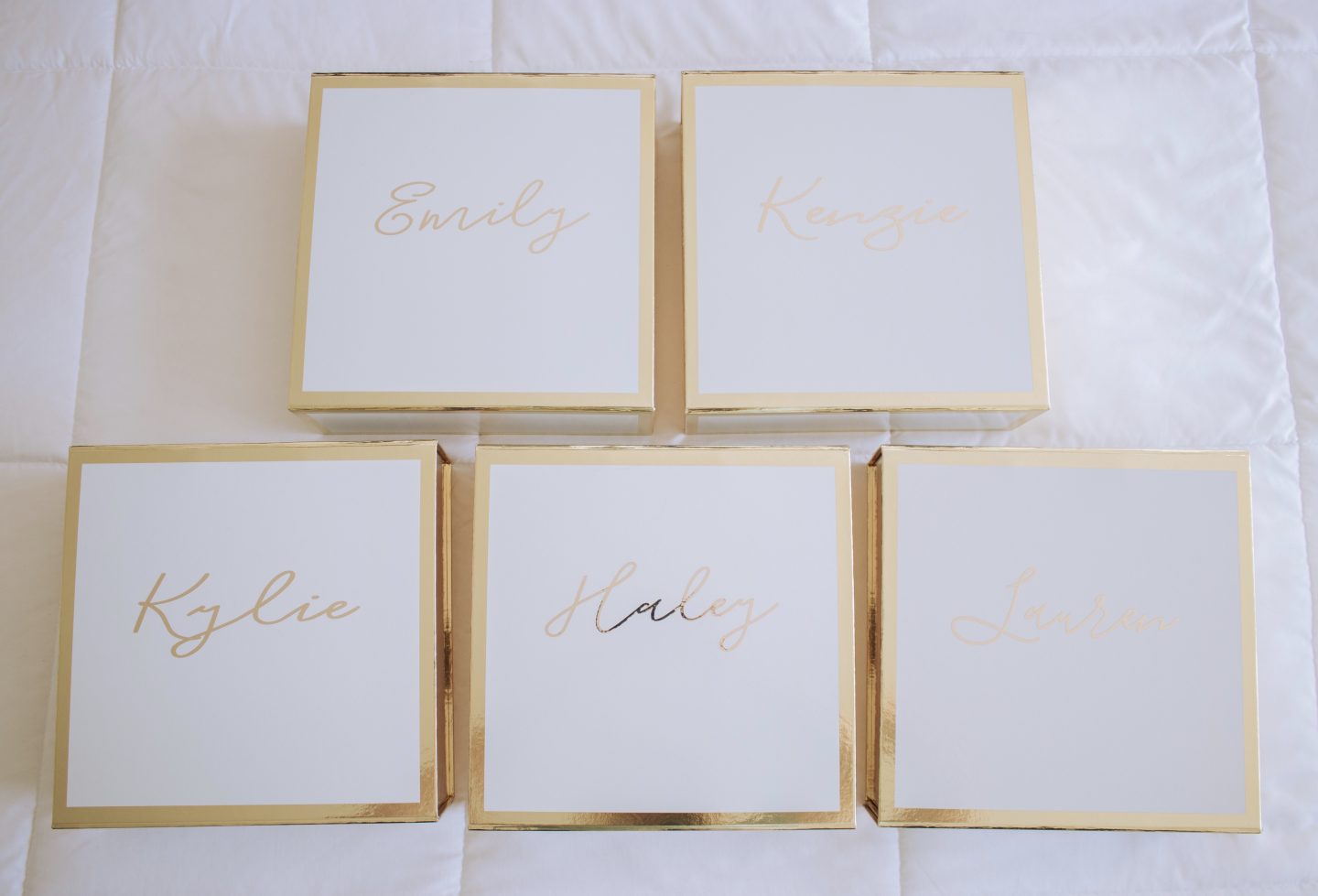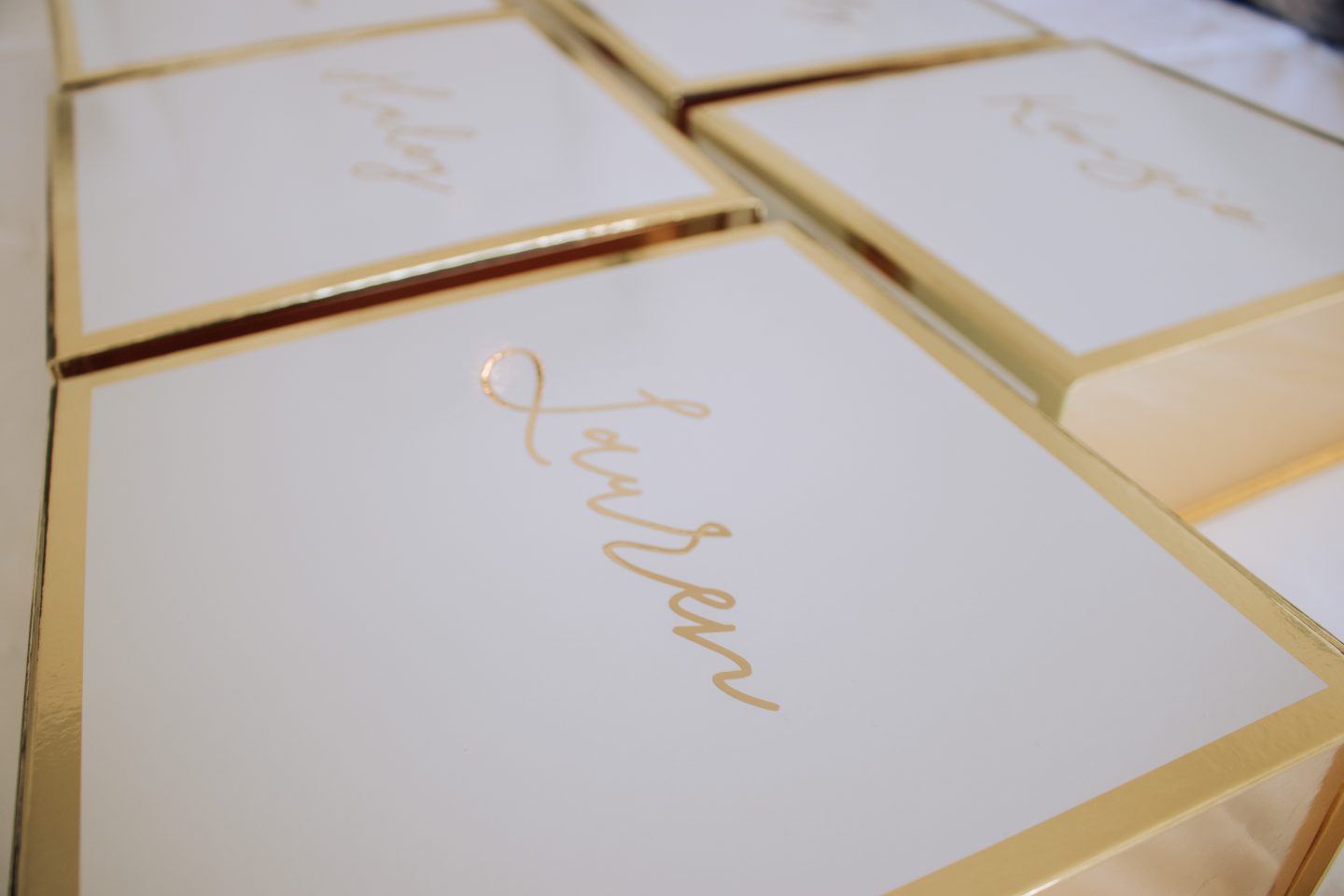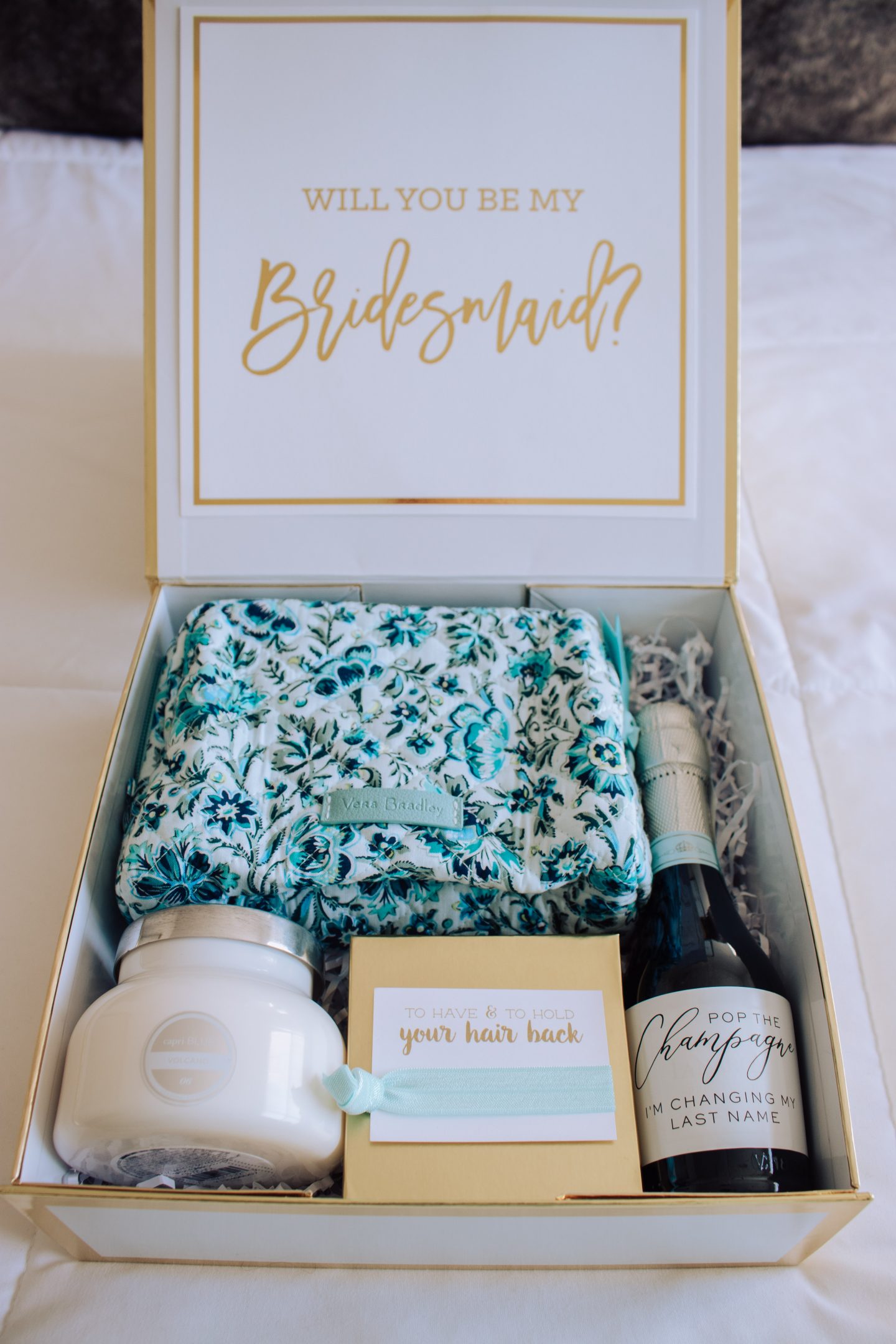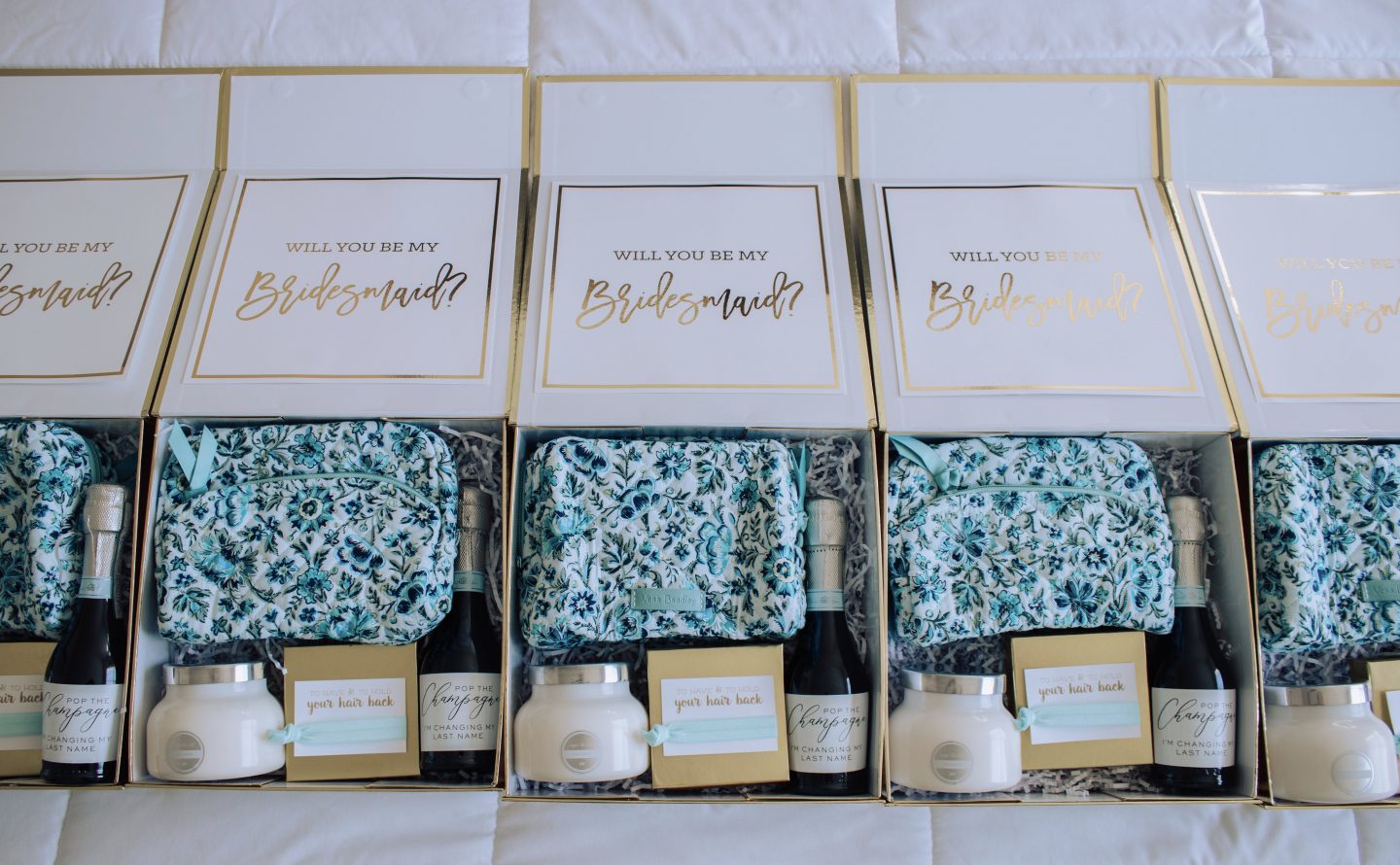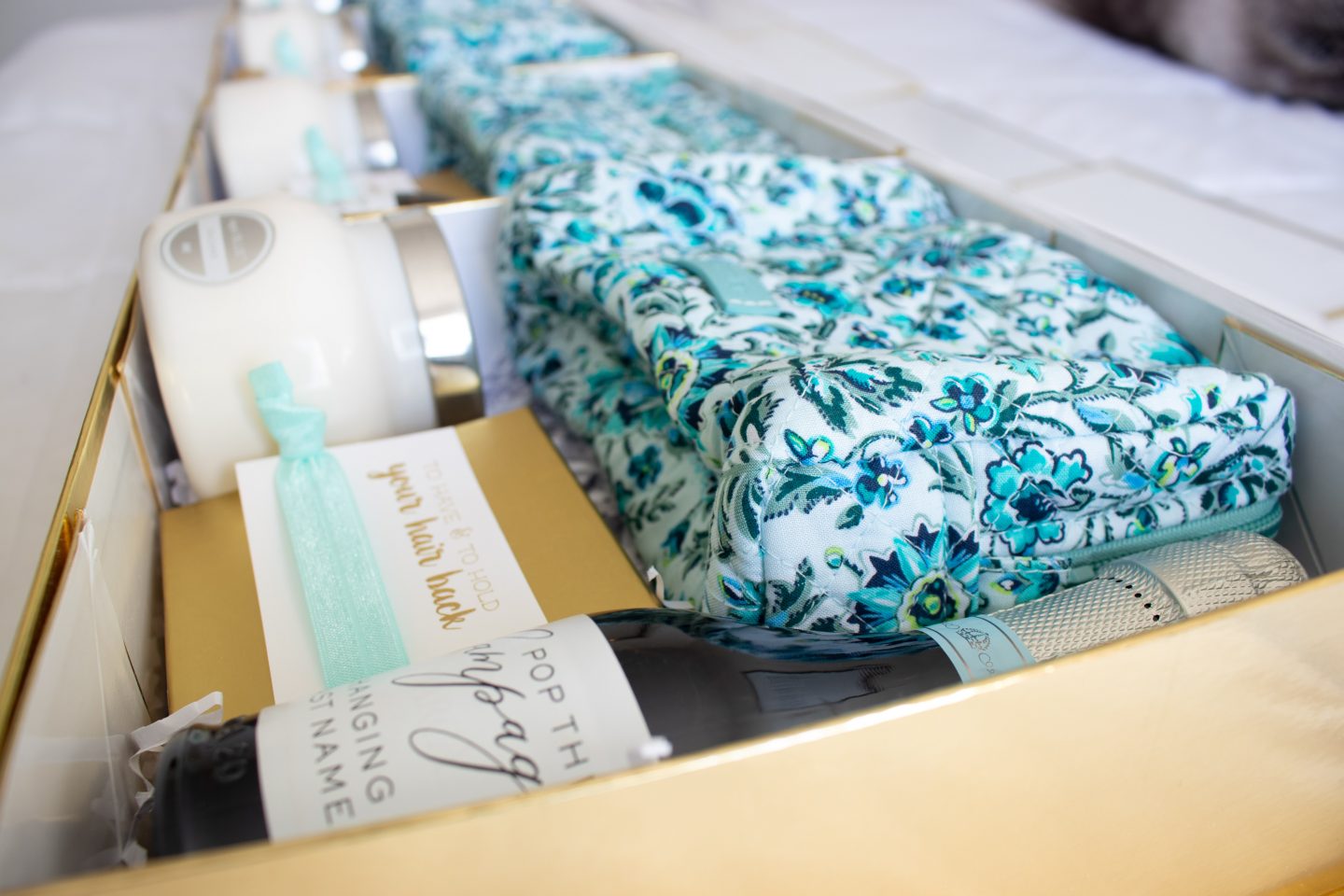 I had SO much fun putting these bridesmaid proposal boxes together! I wanted to go for a chic theme and use things that can be really useful & also fun for my bridesmaids, so here's what I came up with!
The beautiful boxes are from Wedding Favorites – and inside them you'll find:
Champagne
I got the brand La Marca because it is super yummy and matched the silver & aqua colors I wanted to tie in. I then ordered some "pop the champagne I'm changing my last name" labels on Etsy, they're such a cute addition to the bottle! I didn't bother peeling off the original champagne label, so you can easily stick the labels on and they're good to go!
Vera Bradley Cosmetic Bag
Vera Bradley was kind enough to send over cosmetic bags for all my bridesmaids, in the most beautiful print called Cloud Vine! You all know how much I love VB, so I was super excited to add these to my boxes! Their cosmetic bags are such great quality, and it's really just the most perfect item to add to your boxes!
Capri Blue Volcano Candle
Capri Blue candles are another perfect addition to your boxes because they come in so many sizes! Their volcano candles are also the best smell in the world. If you've been following me for a while you know our house is always filled with them haha, so I was so excited when they wanted to gift a petite volcano candle to all my girls!
Hair Tie & Knot Bracelet
The aqua hair tie & gold knot bracelet are some fun additions to my boxes that I got off of Etsy! Etsy has tons of cute things you can add to your boxes, so I highly recommend checking that out!
Below you can find my YouTube video where I go into more detail about my boxes, hope you love it!
Also a huge thank you to Vera Bradley & Capri Blue for sponsoring my boxes! My bridesmaids love them so much & it's such an honor to work with my fave brands!